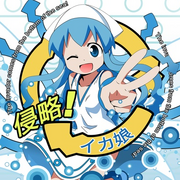 Season 1 Episode 3 Aren't You My Nemisis!?/ Aren't You Afraid?
Next episode
Won't You Buy it?/ Aren't You Invading?
Character Apearances
Edit
Ika Musume
Eiko Aizawa
Takeru Aizawa
Chizuru Aizawa
Sanae Nagatsuki
Goro Arashiyama
Nagisa Saito
The gang take Ika who had never heard of ghosts before, on a test of courage at the local cemetery but she just ends up scaring everyone with her power to emit light. Later, Ika becomes frightened of iflatable killer whales that show up around the beach (believing they are real), since killer whales is her natural predator. When takeru asks Goro to teach him to swim Ika teaches how to avoid the whales. Later a new girl named, Nagisa Saito joins Lemon but is nevous around Ika who is happy that someone is finally scared of her.
Ad blocker interference detected!
Wikia is a free-to-use site that makes money from advertising. We have a modified experience for viewers using ad blockers

Wikia is not accessible if you've made further modifications. Remove the custom ad blocker rule(s) and the page will load as expected.