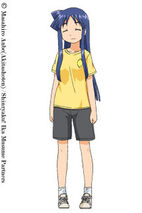 Chizuru Aizawa
is the proud owner and manager of the
Lemon Beach House
. She is the sister to
Eiko Aizawa
and
Takeru Aizawa
.
Appearance
Edit
She had long navy blue hair to her waist and bangs right across her forehead. Her eyes are navy blue same as her hair and are, only being shown rarely. She's shown smiling a lot. She wears the standard uniform and black shorts.
Personality
Edit
Chizuru's personality is usually quiet and reserved. However, if something is happening that she does not like, she will get really creepy. She is dark minded at that time. She easily scares people with her expression. Which has a scary aura to it. She is shown smiling a lot and is usually a calm person. Chizuru wants the Lemon Beach House to be successful and likes to use Squid Girl for such uses.
Her first name, Chizuru means a thousand cranes in Japanese.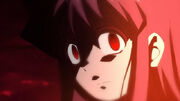 She seems to think of Squid Girl as a pet of some kind.